The UKKH Desk was commissioned by
Utilities Kingston
, of Kingston, Canada, as part of a much greater architectural endeavour, and was funded with an independent allowance of $25K. I was fully responsible for the design, drafting, detailing, and contract procurement of this project, while working closely with a structural engineer and a number of Ontario manufacturers.
Utilities Kingston, is a publicly owned company with a portfolio of amalgamated city services including electricity, phone, storm water and sewage and others.
This reception desk designed to become the focal point of a brand new $14M office building, and is to act as both a greeting place, a transaction counter, and a drafting table to review construction drawings. It, therefore, successfully satisfies a range of strict municipal requirements of accessibility, security, and branding.
Initial concept:
concrete desktop
CPU holder
Drawer cabinet
Concrete working surface
    - To match existing reception desk at the city building
Extra wide counter
    - For added safety to provide grater lateral separation between visitor and receptionist
    - Added working space
    - Sufficient width to accommodate large format drawings
Ergonomic height of desk
    - Desk's height is designed to be relatively low to achieve a welcoming appearance
    - Both the seated receptionist and the standing guest would be comfortable.
    - The desk's height would not obstruct or make unnoticeable a person in a wheelchair
Accessible section
    - Designed for height and chair clearance standards
2 large format drawing layout surfaces
Corporate colours
    - Some of the surfaces are of the UK Blue colour
Logo areas
    - A few surfaces that could receive logos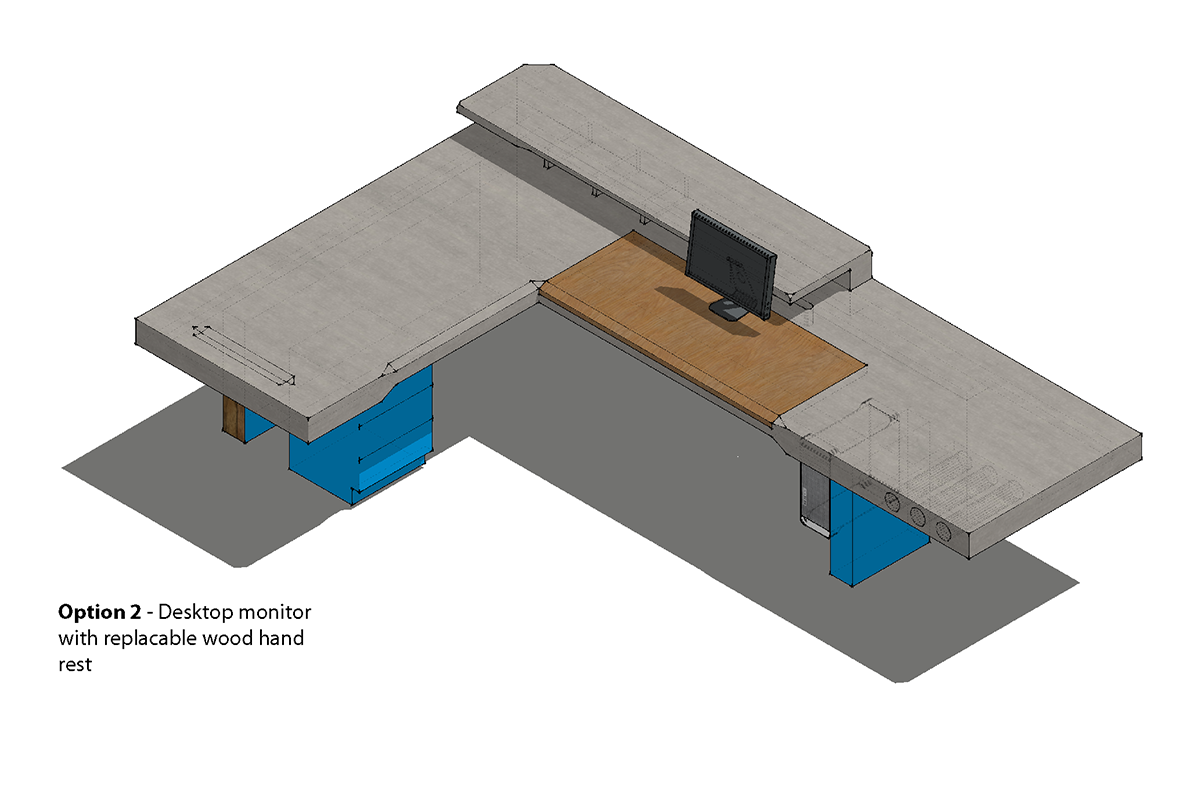 Final design:
solid surface desktop